Metal Price News Week 20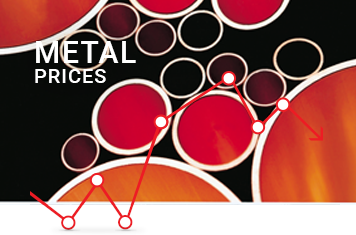 News that have affected the metal prices
Today's commodity prices
3 months LME USD 2,270/ EUR 2,080
Cash CLME USD 8,175 / EUR 7,500
Commodity prices have fallen in the past four weeks. Copper prices have fallen from Cash CLME USD 9,015 to USD 8,175, with a low point at USD 8,135. Aluminium has fallen from 3 months LME USD 2,330 to USD 2,270 with USD 2,225 at the lowest.
Recently the US Dollar has been strengthened against the Euro, which means that in EUR-terms, the 3 months LME aluminium prices have fallen from EUR 2,115 to EUR 2,080, while cash LME copper prices have fallen from EUR 8,185 to EUR 7,500.
The macroeconomic situation is the main reason for the drop in metal prices. The overall focus is fear of recession where the main factor is the inflation, in USA, China and Europe. Other large factors are the industrial production and the solidity of banks.
The focus on inflation goes in two different directions. In Europe and USA inflation is too high, and central banks are increasing interest rates to reduce inflation. This has helped, and the inflation has been mitigated lately, but it is still too high. We expect further interest rate increases in Europe, but not in the US. There is currently debate about whether the US Federal Reserve will start reducing interest rates again.
One effect of the increasing interest rates is a decrease in industrial production. Yesterday, May 16th, the data on industrial production in the Eurozone in March was published. With a drop of 4.1%, the industrial production is at its lowest since October 2021.
In China the situation is quite the opposite, as inflation is close to zero. However, there is still fear of recession, as retail sales for March and PMI and industrial production for April has come out lower than expected. The advantage of the low Chinese inflation is that the government can use monetary policies to boost the economy.
If we turn to the banks, the increasing interest rates cause higher interest rates for the banks' debtholders, especially the real estate sector. The main focus is how the banks will be affected in cases of bankruptcies in the real estate sector.
We expect that the focus will continue to be on the fear of recession – and until we see improved economic data, e.g. falling inflation, increased retail sales and higher industrial production, we expect metal prices to stay at their current level.
Factors that influence the commodity prices
Interest rates and inflation -> Credit risk.
Economic data out of China, USA and Europe.
The situation in Ukraine.
Prices from May 16th, 2023.