Metal Price News Week 28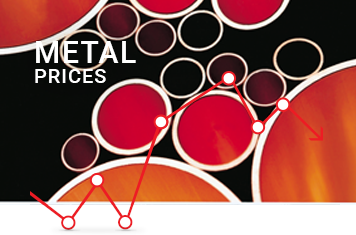 Today's commodity prices
3 months LME USD 2,260/ EUR 2,025
Cash CLME USD 8,525 / EUR 7,635
Factors that influence the commodity prices:
Interest rates and inflation -> Credit risk.
Economic data out of China, USA and Europe.
The situation in Ukraine.
Macroeconomic developments
The prices are following the macroeconomic developments closely, but the macroeconomic picture is quite blurry.
The latest economic figures from the US have been positive, the numbers from Europe have been as expected, but the numbers from China have been disappointing.
On the economic front Europe and the US seems to be drifting apart at the moment.
USA
In the US we saw the Consumer Price Index (CPI) go up 3.0% this year. This was lower than expected, which could point to moderate inflation and thus lower interest rates from the American Central Bank (FED).
Europe
This is the opposite of Europe, where inflation is still high. To curb the inflation, the European Central Bank is expected to continue increasing the interest rate in an attempt to slow down the increasing prices. The increasing interest rate is expected to cause the production and investments to fall.
China
In China the situation is also very different. The latest import and export statements showed that both the import and export were falling more than expected, among other things due to poor demand from the automotive and real estate sectors. This means lower demand for commodities.
The Producer Price Index (PPI) has fallen for nine consecutive months, and there is an overall fear of deflation.
Copper
On June 13th the copper price was USD 8,570 / EUR 7,810. The we saw 10 days of increases, until it peaked at USD 8,600 / EUR 7,890. The prices have since come down again, and at the moment copper is trading around USD 8,530 / EUR 7,630.
The economic split between Europe and the US can be seen in the copper price. While the Copper price in USD has been trading at the same level for the past 3 weeks, the EUR price has fallen from EUR 7,890 to EUR 7,630.
Aluminium
Aluminium prices have been quite stable since our last update. On June 19th the aluminium 3 month LME price was USD 2,235 / EUR 2,050 and today the price is USD 2,265 / EUR 2,020.
Lower demand from construction industry is one of the factors pushing the European aluminium price down. The outlook for the rest of 2023 is pessimistic. Investments in the European construction sector is expected to fall 2.5%. The weaker European demand has led to several European aluminium smelters taking extended maintenance breaks over the summer.
Prices from July 13th, 2023.